مقالات
مقررات جدید دولت استرالیا در رابطه با اجاره بهای املاک تجاری در زمان بحران کرونا
19/01/1399 اقتصاد جهانی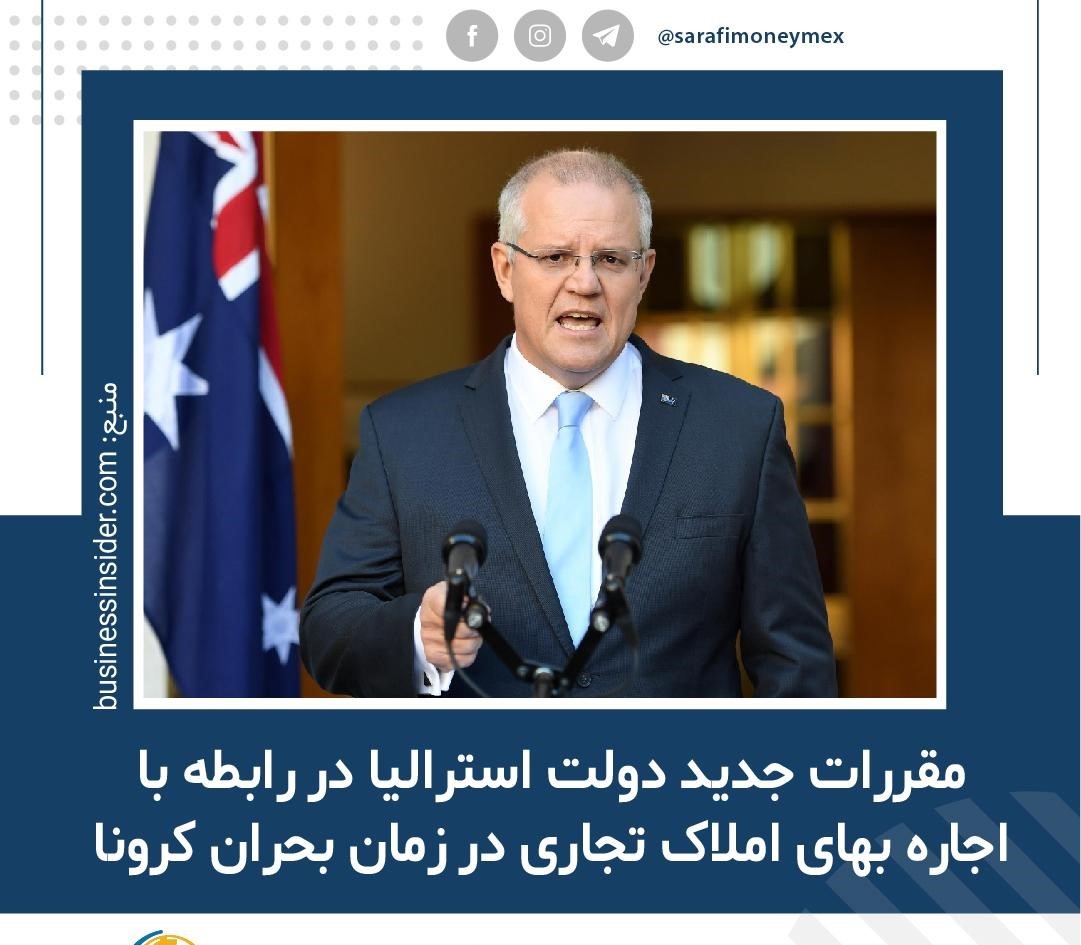 مقررات جدید دولت استرالیا در رابطه با اجاره بهای املاک تجاری در زمان بحران کرونا . اسکات موریسون نخست وزیر استرالیا برنامه كمك هزينه اجاره بها براي واحد هاي تجاري استيجاري كه تحت تاثير ويروس كرونا بوده اند را طرح ريزي و در دستور كار خود قرار داد
در ادامه می خوانید :
These measures include rent waivers and deferrals for properties where the landlord or tenant is eligible for the Jobkeeper program, the government's $1,500 fortnightly wage subsidy, and a freeze on evictions.
"Landlords must not terminate the lease or draw on a tenant's security," Morrison said during the announcement. "Likewise tenants must honour the lease."
The new mandatory code, created by the National Cabinet, applies to properties with a turnover of $50 million or less and brings together a set of "good faith" leasing principles.
Morrison added that landlords "will be required to reduce rent proportionate to the trading reduction in the tenant's business" through a combination of rent waivers and deferrals during the coronavirus pandemic period.
"Waivers of rent must account for 50% at least of the reduction in the rental provided to the tenant during that period," Morrison said, adding that rent "deferrals must be covered over the balance of the lease term and in no less period than 12 months".
"So if the lease term goes for three years, you can amortise the cost of the lease – the rental – deferral over that three year period after the end of the pandemic period. But if the lease only has another six months to run, then the tenant would have a minimum of 12 months after the pandemic period in order to cover up on the deferrals of the rental payments."
Morrison also emphasised a request he had repeatedly made to landlords and tenants. "That is [that] they sit down and they work it out," he said.
The prime minister asked banks to support to landlords, especially international banks operating in Australia, some of which he said are providing that support to larger landlords.
"We will expect those banks to be providing the same levels of support and cooperation as we are seeing from the Australian banks who are aware of these arrangements," Morrison said.
The tenancies code comes after the New South Wales government offered $10,000 grants to small businesses affected by the coronavirus related shutdowns. While the Restaurant and Catering Association (RCA) welcomed the grants, CEO Wes Lambert told Business Insider Australia at the time that the industry is also looking for rent abatements.
"Deferment just creates future liabilities which may create future business collapses under the weight of a lot of debt on the other side," he said.
READ MORE:
https://www.businessinsider.com.au/rent-waiver-deferrals-australia-2020-4